The story of Jessup the Dinosaur and his search for another dinosaur like him, but different.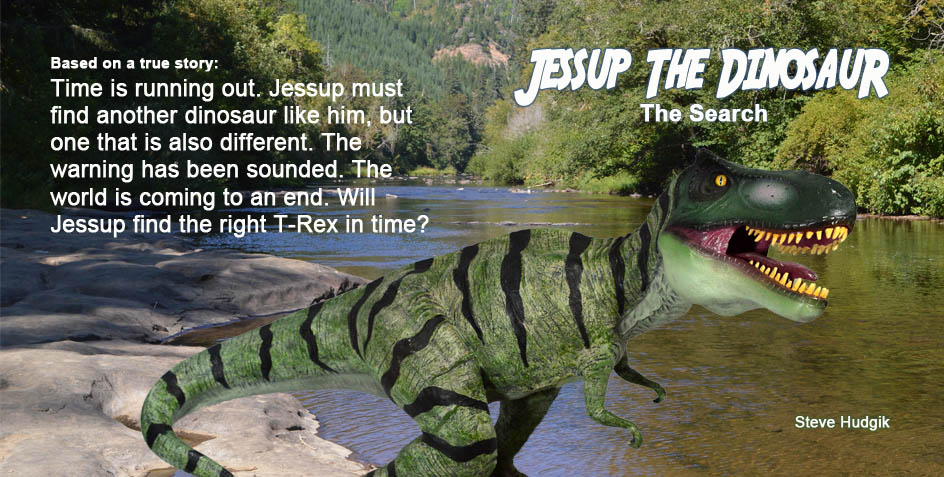 Jesup the Dinosaur: The Search
---
Jessup's dad works pulling a stagecoach bringing workers to the construction site of a huge boat. Jessup is not sure what a "boat" is, but a man named Noah keeps telling everyone to get ready to get on the boat because a huge flood is coming. Jessup doesn't know what a flood is, but it sounds dangerous, so he wants to get on the boat. But, there is a problem. Animals can only get on the boat in pairs. Jessup needs to find another dinosaur like him... but where? And time is running out. That man Noah is saying the flood is coming soon... maybe in a day or so.
Can you help Jessup in his search? As you read the book look for animals on each page. Jessup is on almost every page, but how quickly can you find another dinosaur like Jessup, but different?
Based on a the true story of the global flood as told in Genesis 7-9. Printed books are available on Amazon. You may download a free PDF here.
Order on Amazon
Download FREE PDF Version
Note: Parents, please read the information at the back of the book. It provides ideas and suggestions for how to engage children with the book, and it will tell you where all of the hidden animals can be found. Also note, the screen on a phone may be too small to see the animals children can find on the pages of this book. Expanding the screen to focus on an area where an animal is hidden will help children find the animal.
Ages: baby to about 5 years
Format: 8.5" by 8.5"
Length: 30 pages
Theme: God created males (men/boys) and females (women/girls), who are all made in the image of God